Pure Encapsulations - Vitamin A 10,000 IU - Supports Vision, Growth, Reproductive Function, Immunity, Skin and Mucous Membranes* - 120 Softgel Capsules by Pure Encapsulations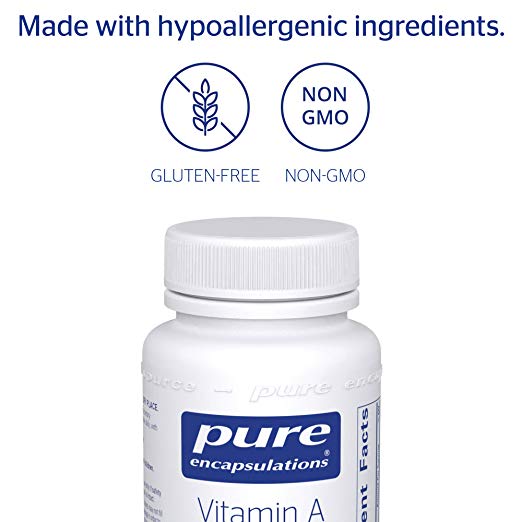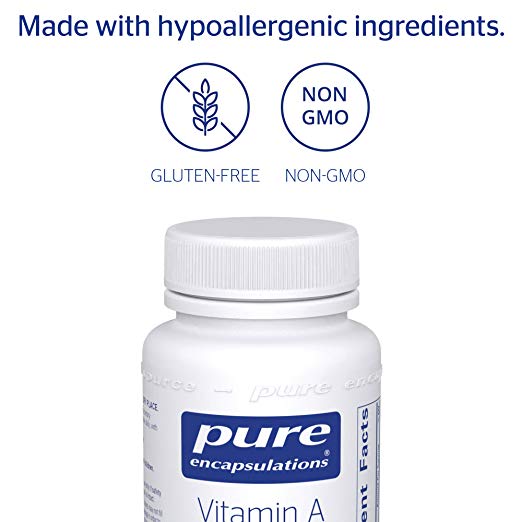 Pure Encapsulations - Vitamin A 10,000 IU - Supports Vision, Growth, Reproductive Function, Immunity, Skin and Mucous Membranes* - 120 Softgel Capsules by Pure Encapsulations
About the product
NUTRITIONAL SUPPORT: Vitamin A provides a wide range of nutritional support for the entire body, including vision, growth and bone development, reproductive function, cell growth, immune function, and the integrity of mucosal and epithelial surfaces.*

IMMUNE HEALTH: Vitamin A is also an essential nutrient for the body's natural defense systems.*

EYE HEALTH: Vitamin A is a fat-soluble vitamin required for healthy vision.*

PURE INGREDIENTS: Pure Encapsulations manufactures a line of hypoallergenic, research-based dietary supplements. Products are meticulously formulated using pure ingredients designed to deliver predictable results for the benefit of all patients, even the most sensitive.*

FREE FROM: Pure Encapsulations products are free from wheat, gluten, egg, peanuts, magnesium stearate, hydrogenated fat, artificial sweeteners and colors, and other unnecessary excipients. Any product containing ingredients derived from allergens, such as soy, dairy or shellfish is clearly labeled. *These statements have not been evaluated by the Food and Drug Administration. This product is not intended to diagnose, treat, cure, or prevent any disease.
Important information
Safety Information
Not to be taken by pregnant or lactating women. Vitamin A at levels above 3,000 mcg (10,000 IU) can lead to serious adverse side effects, including birth defects. This product is not recommended for women who may become pregnant. If you have any health condition or are taking any medication, consult your health professional before use.


Legal Disclaimer
*These statements have not been evaluated by the Food & Drug Administration. These products are not intended to diagnose, treat, cure or prevent any disease. Please contact your healthcare professional immediately if you experience any unwanted side effects. The information contained herein is for informational purposes only and does not establish a doctor-patient relationship. Please be sure to consult your physician before taking this or any other product.

Statements regarding dietary supplements have not been evaluated by the FDA and are not intended to diagnose, treat, cure, or prevent any disease or health condition.


Ingredients
Each serving size (1 softgel capsule) contains: Vitamin A (from Norwegian cod liver oil and vitamin A palmitate) 3,000 mcg. Other ingredients: gelatin capsule (gelatin, glycerin, water) natural lemon flavor, proprietary natural tocopherols and rosemary leaf antioxidant blend. Contains fish (cod).


Directions
As a dietary supplement, take 1 capsule daily, with a meal. This product is shipped with a desiccant. In order to maintain product freshness, customers are encouraged to leave the desiccant in the package until contents are consumed.