Vital Nutrients - Saw Palmetto / Pygeum / Nettle Root - Supports Healthy Prostate Function - 60... by Vital Nutrients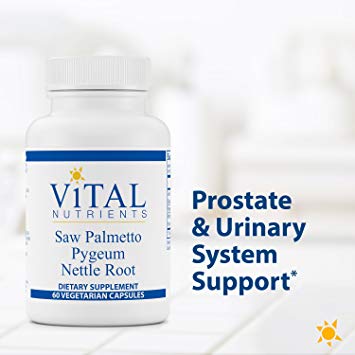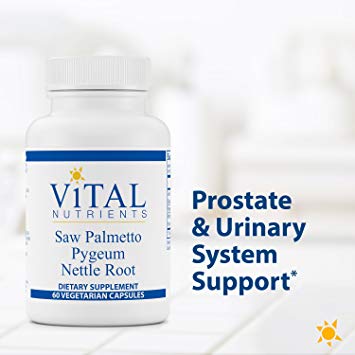 Vital Nutrients - Saw Palmetto / Pygeum / Nettle Root - Supports Healthy Prostate Function - 60... by Vital Nutrients
About the product
SUPPORTS URINARY FUNCTION: This formula includes Saw Palmetto concentrated to contain 85% fatty acids extract, which acts as a urinary tonic for men.

SUPPORTS PROSTATE GLAND: The combination of the herb pygeum and nettle root extract helps support prostate health.

HEALTHY HORMONE METABOLISM: This formula also helps to maintain a healthy hormone metabolism in the prostate.

DOES NOT CONTAIN: coatings, binders, gluten (wheat, rye, barley)*, milk/dairy (casein, whey)*, soy protein*, egg protein*, sugar. *Verified by independent testing

100% TESTED RAW MATERIALS: Although the FDA allows skip lot testing, which lets manufacturers test only a fraction of materials, Vital Nutrients REJECTS that practice and tests 100% of raw materials.
THE VITAL NUTRIENTS DIFFERENCE

Vital Nutrients is known as the leader in quality in the nutraceutical industry. We are an American-owned and operated company dedicated to manufacturing high-quality nutritional supplements that promote health, wellness, and vitality. Our products are trusted by hospitals, healthcare practitioners, and consumers worldwide.

While all-natural product companies claim to have the best quality, most are not completing all the steps required to comprehensively ensure that quality and purity standards are consistently met for every batch of product. Vital Nutrients' Quality program far exceeds both FDA and industry standards; with all manufacturing occurring at our strictly-controlled state of the art, FDA-inspected facility in Connecticut. Vital Nutrients is also proud to be the official supplement manufacturer for Cancer Treatment Centers of America's Hospital, a designation that speaks volumes on our commitment to quality.
KEY ELEMENTS OF OUR QUALITY PROGRAM
No Skip Lot Testing
Some companies skip lot test their products. At Vital Nutrients, we test every batch of raw material and finished product to ensure potency, purity and authenticity.

Third-Party Testing
Only U.S. independent labs that follow scientifically valid analytical methods and ethical lab practices are used to verify our materials.

Never Rely on a Certificate of Analysis
Many supplement companies base their quality evaluations on vendor supplied "Certificates of Analysis." Instead, Vital Nutrients chooses to evaluate our materials strictly from our trusted labs.
ESSENTIAL TESTS IN OUR QUALITY PROGRAM
Along with authenticity, potency, and stability, we test for the following:

- Microbiology testing for aerobic bacterial count, yeast and mold, Salmonella, E. coli, and more.
- Chemical Solvent Residue for all raw materials in accordance with USP 467.
- Herbicide, Pesticide & Fungicide Residue in all botanicals.
- Heavy Metal testing includes lead, mercury, cadmium, and arsenic.
- Aflatoxin Residue in all botanicals
- Rancidity of all Oil Products
- Dioxins, Dioxin-like Compounds & PCBs in fish oils.
- Product specific tests