Lemon Balm Force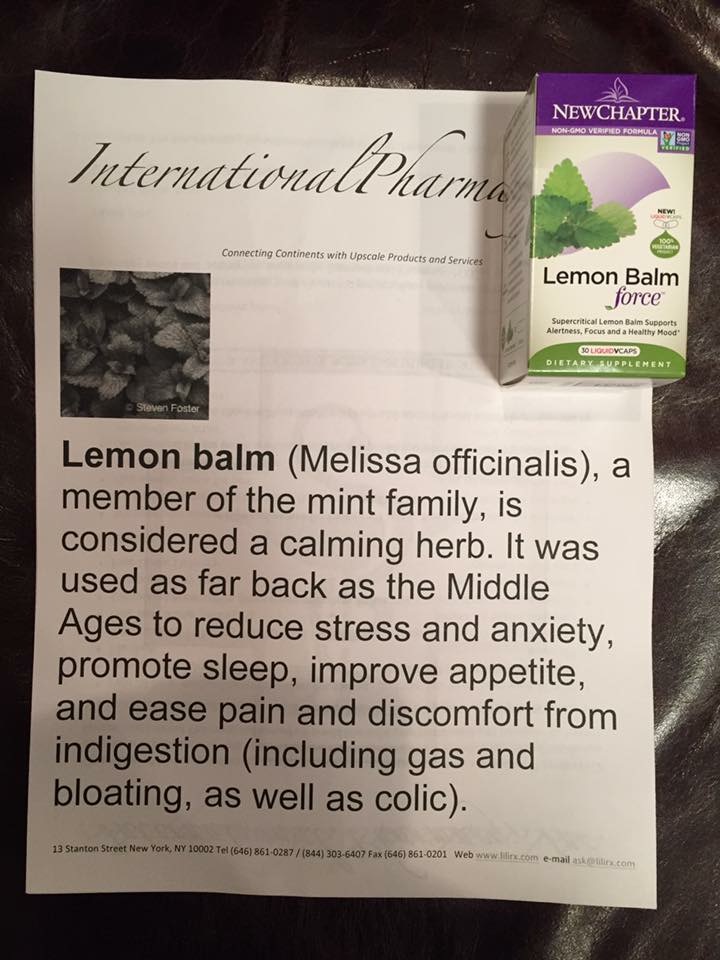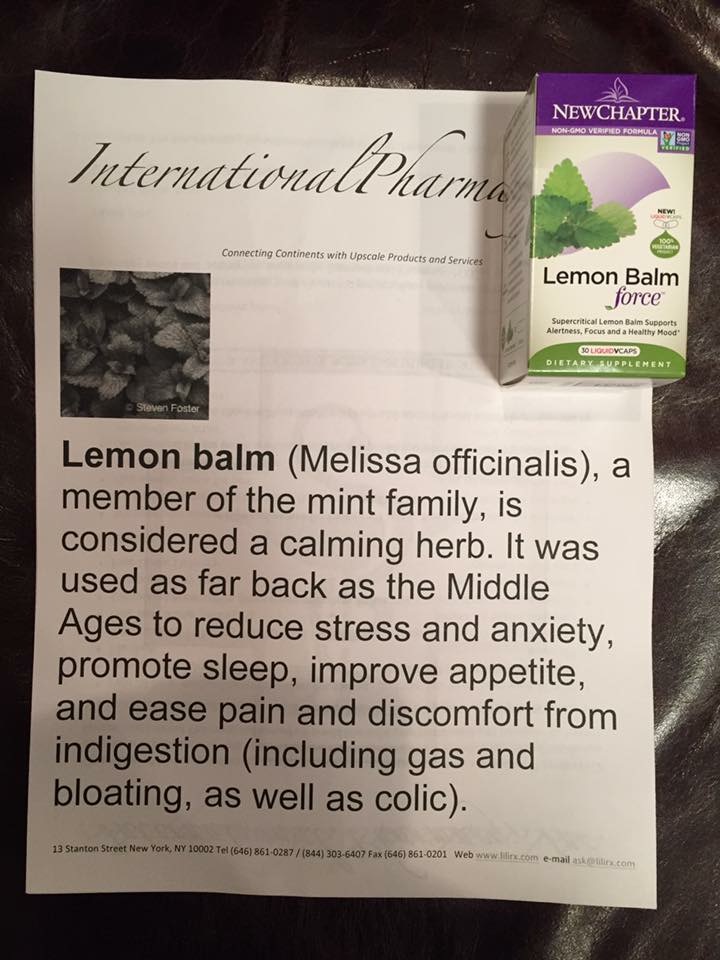 sale
Lemon Balm Force
Lemon Balm
Promotes a healthy mood, calm, and well-being.*
Suggested Use
One capsule daily with food. Not recommended for use in children. See Supplement Facts
Supplement factsView Facts
Amount per 1 Capsule % Daily Value
Lemon Balm (Melissa officinalis) (leaf and stem) hydroethanolic extract200mg•
Lemon Balm (Melissa officinalis) (leaf) supercritical extract100mg•
• Daily Value not established
Other ingredients: Extra-virgin olive oil, hypromellose (capsule), organic olive oil, organic yellow beeswax, candelilla wax and silicon dioxide.
Gluten free; 100% vegetarian; no artificial flavors or colors.
Caution: As with any dietary supplement, you should advise your healthcare professional of the use of this product. If you are nursing, pregnant, or considering pregnancy, you should consult your healthcare professional prior to using this product. Discontinue use and contact your healthcare professional if you experience a side effect or an allergic reaction. Do not exceed suggested use. Keep out of reach of children.
What is Lemon Balm Force?
Lemon Balm Force is expertly formulated with a whole-food approach to deliver Lemon Balm's pure, beneficial compounds in Nature's true profile.
What does Lemon Balm Force do?
Lemon Balm Force acts an antioxidant to protect you against oxidative stress, supports your immune system, and supports a healthy mood and wellbeing.* Lemon balm extract helps to keep you alert and focused.*
Choosing our ingredients is everything.
Not only do we ethically source the very best the earth has to offer, we do so in a way that protects ecological sustainability and social welfare. Our ingredients are what make us who we are, and who we'll always be.
Benefits of New Chapter herbal supplements
Different herbal remedies for different goals: Whether your goal is to maintain healthy blood pressure or you want to boost your immune system, we have a supplement for you.* Explore our line of therapeutics and find a product that meets your needs.
Take care of your overall health: Create a personalized regimen of herbals to maintain your blood sugar or to improve your focus and alertness.* We have a path to your health goals, no matter which path you're on.
Health support, the holistic way: Our herbal capsules are 100% vegetarian, gluten free, and made with only supercritical or traditional extraction methods so you can feel good about taking them. New Chapter herbal supplements deliver benefits the way Mother Nature intended.
FAQ