Zyflamend WHOLE BODY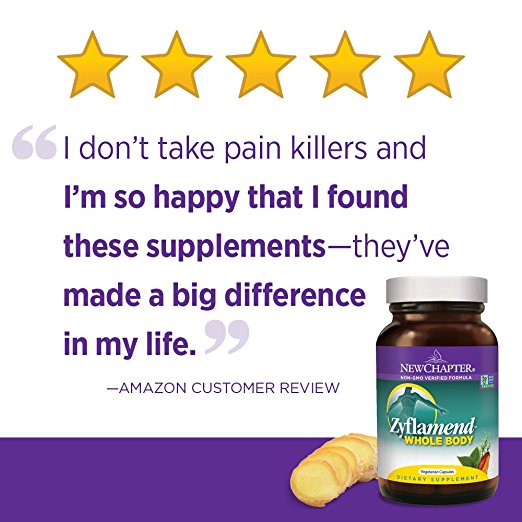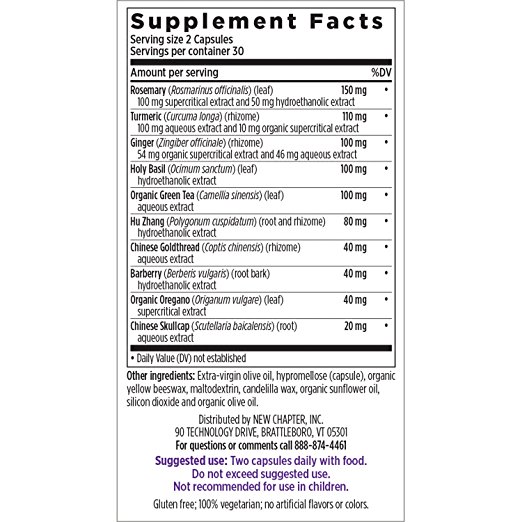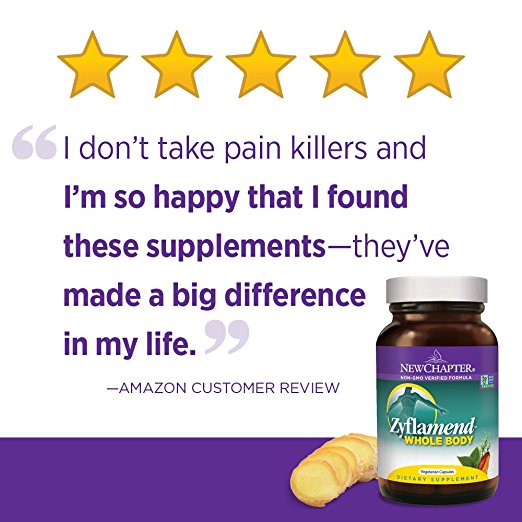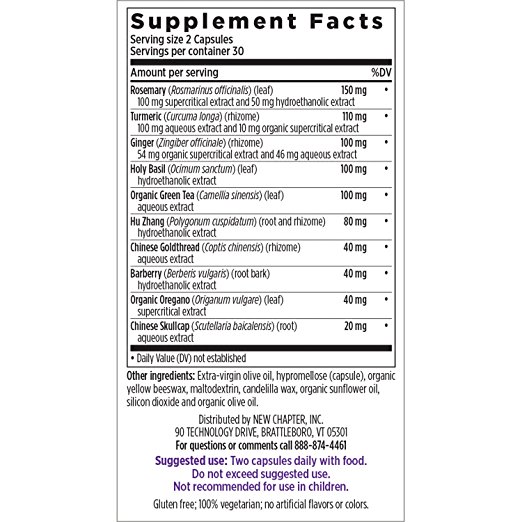 sale
Zyflamend WHOLE BODY
About the product
Herbal Pain Reliever: New Chapter's #1-selling herbal supports the whole body's healthy inflammation response and is an herbal approach to pain relief*+
4-in-1 Complete Joint Supplement: Supports mobility, flexibility, joint function, and healthy inflammation response for overall joint support & comfort*+
Same Great Formula: Our trusted and pure Zyflamend formula is rapidly available for absorption, delivered in an improved capsule that protects the herbs from oxidation
Expertly formulated and backed by science, with 10+ scientific studies on its use and effectiveness. Our 10 herb blend includes Turmeric, Rosemary, Green Tea, Ginger & Oregano and can be an herbal alternative or complement for those taking hyaluronic acid, systemic enzymes, vegetarian glucosamine or chondroitin
1st Herbal Pain Reliever+ to be Non-GMO Project Verified, 100% Vegetarian, Gluten Free, No Synthetic Fillers, No DLPA, No Animal Enzymes or Byproducts.
Suggested Use
Two capsules daily with food. Do not exceed suggested use. Not recommended for use in children
What is Zyflamend Whole Body?
Zyflamend Whole Body is our best-selling herbal approach to pain relief.*† We use a potent 10-herb blend including Rosemary, Turmeric, and Green Tea. Full-spectrum Ginger helps with the joint and muscle pain.*
What does Zyflamend Whole Body do?
Zyflamend Whole Body helps keep you moving! Whether it's after a brisk workout or a light walk, our #1-selling multi-herbal formula helps relieve minor pain or soreness so you can stay active. This herbal pain reliever helps to balance your body's natural, healthy inflammation response.*
One plus one is greater than two.
Our blend makes all the difference. In preclinical lab work, Zyflamend's 10 herbs showed a powerful synergy when tested as a whole blend, compared with testing activity of the 10 herbs separately. Our formula is greater than the sum of its parts.
Choosing our ingredients is everything.
Not only do we ethically source the very best the earth has to offer, we do so in a way that protects ecological sustainability and social welfare. Our ingredients are what make us who we are, and who we'll always be.
Chinese Skullcap
Time-honored tonic that promotes health and well-being.
Ginger
"King of herbs" supports occasional pain relief after exercise.*
Green Tea
Promotes healthy aging, vitality, and cardiovascular health.*
Turmeric
Nature's powerful ally for healthy inflammation response.*
Take it straight from our customers.
with pain
This product is a game changer! I have tried EVERYTHING for my aching knee and right hip. This is the only thing I have taken that has allowed me to be pain free at night. It started working after the first two pills! My husband started taking it at the same time I did and he feels as if his joints have been lubricated. He says his tight jaw even feels better. We have both had such amazing results we have told everyone we know that suffers from pain about this product. THANK YOU NEW CHAPTER! - Kate
LOVE this product!! Helps my back tremendously.
I highly recommend this product to everyone! I have even given it as a gift. I can tell if I am out of it for a few days bc the pain comes back and I have done that long enough to really feel the difference. Give it time and take it religously. You will be able to tell. - Susan With Back Pain
Hi Susan, Awesome! Thank you for the 5 stars! We are happy to hear the Zyflamend Whole Body is working out well for you. Thank you for the kind words, and for continued support of New Chapter! Cody, Consumer Support
THIS REVIEW WON'T HELP YOU!!
Being a good husband, I gave my wife's opinion the extra half star (because 2 1/2 is not available). She swears by this product and recommends it to anybody who has any sort of muscle aches or pains. I am happy for her, but have not had the same experience. As stated by "Searching4Healing," I too am a big guy and maybe this formula is just not strong enough for me. I have taken the recommended daily dose for quite some time and have not noticed any difference. Since this product is not inexpensive, I am back to using over-the-counter pain medications that work when I have the need. Even the two licensed physical therapists where we used to go have opposing opinions about this products. One has his whole family on Zyflamend and the other has not found any benefit in it. Good Luck! - THE2OPINIONS
Hello THE2OPINIONS, Thank you for taking the time to write a review of the Zyflamend Whole Body. We are happy to hear that the product is working well for your wife, and we appreciate her recommendations. We are sorry to hear that you have not had the same experience with our product. That being said, each body metabolizes herbs differently, therefore it is understandable that you have not yet been able to experience the same effects. Hopefully, with the guidance of a physician or naturopath you will be able to find some New Chapter products that work well for you! Audree, Consumer Support
Suggested Use
Two capsules daily with food. Do not exceed suggested use. Not recommended for use in children. See Supplement Facts
Supplement factsView Facts